During the time at Ft Irwin (NTC) and the first 7 months of our deployment I was the acting 1SG for the Security Company. We were people from every unit in the 181 Spt. Bn. Our mission was to provide the security force at the North Entry Control Point on LSA Anaconda. I had to come home on emergency leave because I had family issues. When I got home I found out that my wife had left me and was now living with another man. I got to see my daughter for about 15 min the first time I saw her. Then I had her for 24 hours right before I went back to Iraq. Upon my return to Iraq I found out I had been moved. I was now the NCOIC (big guy on campus) of the East Entry Control Point & the Trash Pit. I had been back in country for 11 days when I was wounded. I took a M240B round thru my right leg about 1 inch above my knee. The round is a 7.62mm NATO round. It shattered my femur and other internal damage was a severed artery & Peroneal nerve damage.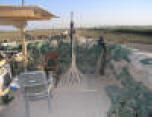 Here is the machine gun that shot me. This picture was taken the same day.

If you look there are 9 rounds total laying on the ground. On one the primer has a dent in it. I don't know if this is why the weapon stop firing or not.
The good things about this whole incident is that I was only hit once but, EVEN more important is that none of my soldiers were injured.

Looking back at the building the machine gun was mounted on. This is pretty close to where I was standing.

This is the concrete barrier I was standing behind to protect me from enemy small arms fire. This was not the case here. Instead I was wounded by "Friendly Fire".
And because of this I am not eligible for a Purple Heart. And YES this has been hard to swallow!! I shed blood on foreign soil but because I was injured by a fellow soldier I am not due this medal. If you feel this is WRONG please contact your congressperson and let them know. I know some of you are going to look at my Lic Plates and see that I have Purple Heart plates. I was awarded the medal but then it was taken away. I got the plates before I knew that it had been taken away.
I am going to post some pictures of my legs now. So if you have issues with scars stop here!

In the hospital at Madigan Army Medical Center, Ft Lewis, WA with my mother. This was really hard on both my mom & dad.
This is the external fixator I had in my leg to position the femur.
I now have a plate & 12 screws in my leg holding everything together. I also had to have a bone graft from my right hip to fill in some of the missing bone.

The exit wound & fixator points.

The entry point! Yep something that small did all this damage.

To repair the artery in my right leg they grafted the Saphenous vein from my left leg.

The upper scar is the graft site where they repaired my severed Popliteal artery. The lower scars are what they call Fasciotomy. It is to help limit the damage to the lower extremity due to swelling. It is on both sides of my leg.

This is where they put the plate & 12 screws to hold my leg back together. When I went back in for my bone graft they connected this incision with the one on the lower part of my leg. So my side job of modeling swimsuits is out the window!!


Here is my first time to Physical Therapy. Kevin was great and did a wonderful job.
I was in therapy from Nov 04 to May 05.

My sister and her family took me into their home when I was discharged from the hospital. Other than being able to use the toilet I was dependant upon them for daily living. I lived with them for just over a year until this past fall. I now have a home with a garage in central Washington.