Karrlie Jean White
DOB 16 May 2002
This page is going to be for my little girl who brightens my day when ever I have her.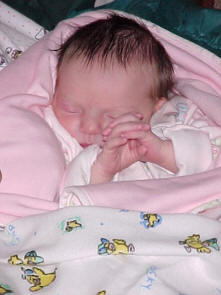 She is now 3 going on 13! And I have all I can do to keep up with her.

This picture was taken summer 2003 right before I was deployed.
My being gone for 8 months and only seeing her for a few days before I left was hard. Then seeing her dad with big owwies on his legs didn't help. It took her about 2 months of visiting me at her aunts house before she would get near me.
Here she is going 4wheeling with daddy on Memorial Day weekend.

Right now I get to have her for 2 weeks every month. It has been great for me because it helps me stay active.
Well as of Sept 2006 I was awarded custody of Karrlie. She started Pre-School in Sept 2006 too.
She is doing just great at school and really enjoys her time there. We had a sledding party right before Christmas.
Then at the end of the Nursery Rhymes section we had a Tea Party. Well Karrlie was just cutie as a button.
Karrlie got her own computer for Christmas along with a matching computer desk.
Karrlie is growing up and is a very nice young lady. She started kindergarten this year and has 9 other classmates. There is a plus to going to a small town/school.
Her school went on a field trip for Halloween.
Well Karrlie has been growing. She is now in 1st grade and really liking school.
Here she is helping dad work on the Jeep.