Well I will try and keep this web page updated with all the modification I am doing to my TJ.
When I bought the Jeep it already had a ProComp 4" lift on it. Now about the only thing left of that lift is the 4" springs.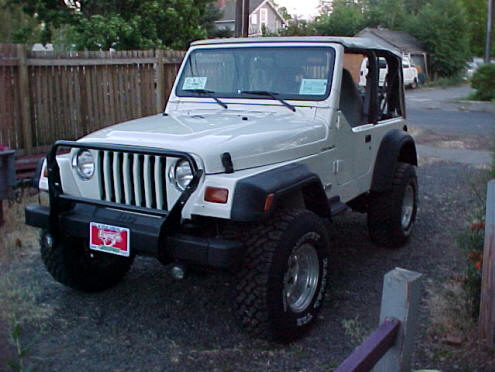 This is what I started with. It took me about 4 years for the new TJ style to grow on me.
I like it more and more everyday now.
Some of the first mods I did were comfort items.

First was my Tuffy overhead console. It has a Pioneer CD in front & a CB radio in the rear.
I will post up some new pictures of how it was modified to fit into my new trail cage.
Next were some Scat ProCar seats. They need to be reupholstered soon but I think I'll keep them.

I put in a rearview mirror that has map lights. Makes a huge difference in being able to see inside.
After taking care of comfort items I turned to function.
Next I picked up some used Poison Spyder Rocker Knockers.
I had a Warn full floater kit on the rear axle & their small hub kit on the front. The rear axle also had a Detroit locker & 4.88 gears. The front has a Lockright lunchbox locker & 4.88 gears.
The last mod I did before being shipped out to Iraq was to start my Onboard Air system using a kit from